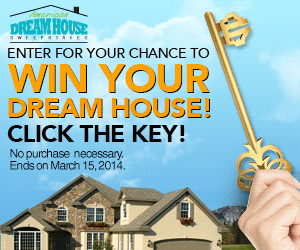 WIN Your Dream House (Enter 1x, Thru 3/15/15)
Enter today to win the house of your dreams! There's nothing quite like the pride of ownership. But, can you imagine WINNING a house!?
Enter to WIN the house of your dreams.  You must be 18 or older to enter and win.
Enter today to win the house of your dream.
Prize: One grand prize winner will receive Five Hundred Dollars ($500) per week for the rest of their life (up to the age of 75) or have the option for a lump sum payment of Five Hundred and Five Thousand Dollars ($505,000).
Entry: thru 3/15/15
No purchase necessary to enter or win!
NOTE: by entering their sweepstakes you will also receive their free daily email. You can cancel anytime.
© 2013,
GimmieFreebies
. All rights reserved.
Please note that links on this website may contain paid advertisements. GimmieFreebies has financial relationships with some of the merchants mentioned here. GimmieFreebies may be compensated if consumers choose to utilize the links located throughout the content on this site and generate sales for the said merchant. I am disclosing this in accordance with the Federal Trade Commissions 16 CFR, Part 255 Guides Concerning the Use of Endorsements and Testimonials in Advertising. To read the full disclosure,
click here
.