FREE Disney Movie Rewards Points + Master List of Free Codes
What is Disney Movie Rewards
Get Disney Movie Reward Free Points when you JOIN Disney Movie Rewards, each time you buy a Disney movie you will find an insert inside with a special secret code, simply visit the DMR site linked above, and enter the code into the code box, the points will be added into your account!! You can redeem those points for cool Disney themed items such as Posters, DVD's, and even a Walt Disney Studios Private Tour!!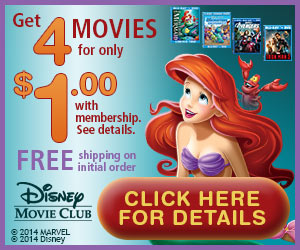 Things to note:
You can only enter 10 codes per day
Entering too many expired codes will get your account banned or removed
If your account gets blocked, call 1-866-246-8646  Monday through Friday, 9:30 A.M. to 6:30 P.M. central time to talk to a customer service representative. After you ask them to unblock your account, you should be able to log in again within 48 hours
Disney Rewards Points Codes:
Check your email for a message from Disney Movie Rewards! You could get 50 free points in a message such as the we got like this:
Mystery Points are predetermined and are based on a Member's Disney Movie Rewards program activity from commencement of membership up through 12/31/14.
NEW: Sign in and take the new survey for 100 free points!
Play the Disney Challenge via Facebook – 5 Points (new game every first and third Monday)
DMRTY2 - 50 points
DMR2MIL - 75 points
FPSNN83JX9 - 25 points
BEARS – 10 points
CLOVER2 – 5 points
FROZEN – 10 points
ELSA – 10 points
AFFECTION – 5pt
CHOCOLATE – 5pt
ROSE – 5pt
SWEETHEART – 5pt
VALENTINE – 5pt
DUSTY – 5pt
JAFAR – 5pt
URSULA – 5pt
APPLE – 5pt
GHOST – 5pt
MUFASA – 5pt
JOURNALTHREE – 5 points
PLEDGE  – 25 points 
BOTHER – 10 points
DMRPIN – 10 Points
M1D179FJ391K – 10 points
MILLION – worth 10 points
macintosh – worth 10 points
U13PEKSZZD – worth 25 points
Link your DMR account to Facebook – worth 25 points
Click here to take a survey worth 25 points
You'll also get 100 free points on your birthday, so don't forget to claim them (they send an email).
Surprise your child with a FREE call from a favorite Disney character…now that's a special occasion! Must be 18 years of age or older to order a call. Open to residents of the United States and Canada (excluding Quebec). Currently, calls are not available to residents of ID, WA, GA, KY, MS, NE, TN, and LA. Limited quantity, available only while supplies last. Limit one free Disney Enchanted Call per member.
M1D179FJ391K